ACQUISITIONS
Since regaining its independence in 1994 – when the state returned the collections of one of Europe's most important Jewish museums to the Federation of Jewish Communities in the Czech Republic – the Jewish Museum in Prague has devoted great attention to developing its collections.
The breadth of our interest in acquiring objects for our collections is extensive – from visual art and objects documenting the cultural and social aspects of Jewish life through to the personal testimonies of Shoah survivors.
As a non-state cultural institution, the museum's financial resources are limited, which is why we prefer to acquire objects through donations and bequests (for which it is recommended that the staff members listed below are consulted in advance). The museum also purchases objects or documents that are of interest for its collections, even sometimes at public auctions.
All proposals for including collection pieces are assessed by the Jewish Museum in Prague's Acquisition Board

The board plays an important role with regard to systematically fulfilling the acquisition programme of the Jewish Museum in Prague. It does this primarily by assessing all proposals for the inclusion of items in the museum's collections (donations, purchases and bequests) or for the removal of collection pieces. Acting as an advisory body, it provides recommendations to the museum director for items to be included or removed from the collections.
The board meets whenever necessary to assess the technical advice of the museum's curators with regards the acquisition or removal of objects from the museum's collections. On the basis of this technical advice, the board votes on how to proceed. Where necessary, other experts at the museum or external specialists are invited to consultations.
In accordance with its internal rules on bookkeeping, registration and provenance research of collection pieces, the Jewish Museum in Prague does not accept anonymous donations of items. A deed of gift or purchase agreement with the owner is drawn up for the acquisition of any collection piece, and written proof of ownership must be provided in the case of bequests.
If you would like to donate objects to enrich the collections of the Jewish Museum in Prague, please contact:
Examples of acquisitions – photographs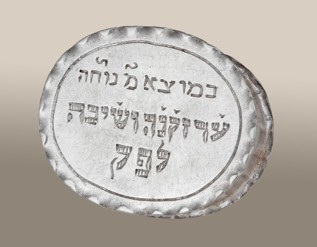 177.371 - Medicine box
Unknown maker, Central Europe, 1760 , Hammered silver, 24 x 9 mm
Marking:
illegible mark at the bottom; Hebrew dedicatory inscription engraved at the top: 'For retirement (the number in the chronogram is 54) when old and grey haired, according to the minor era' (the date in the chronogram is 520 = 1760).
Provenance:
donated to the museum in 1999.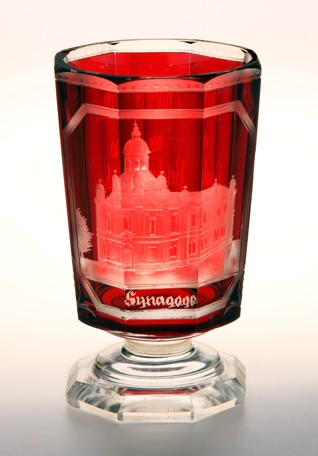 179.618 - Commemorative cup with a depiction of Liberec Synagogue
Unknown maker, Northern Bohemia, after 1889, Carved glass, ruby glaze, 136 x 83 mm
Marking:
German words 'Synagoge' [synagogue] and 'Andenken aus Reichenberg' [Memento from Reichenberg] carved on the surface.
Provenance:
purchased by the museum at an auction held by Meissner-Neumann in 2010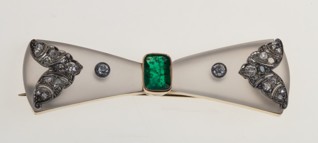 178.948 – Broach

Unknown maker, Central Europe, ca. 1920–1930.
Gold, diamonds, emeralds and chalcedony, length 56 mm, width 17 mm, completely unmarked.
Provenance:
Acquired by the Jewish Museum in Prague through a bequest in 2012.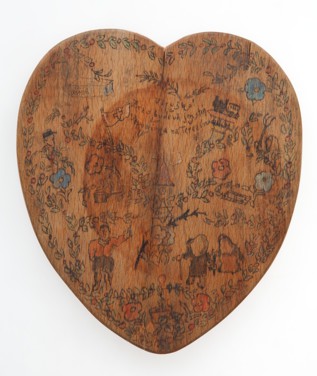 179.071 - Pot coaster
Unknown maker, Terezín, 1945, painted wood, height 210 mm, width 183 mm
Inscription:
"'Věruška, it will soon just be a shadow, a memory of Terezín."
Provenance:
Acquired through donation in 2007.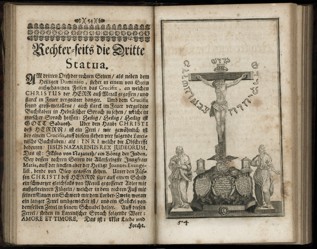 1999/1483 - Eigentlicher Entwurff, Und Vorbildung, Der Vortrefflichen, kostbahren, und Welt-berühmten Prager -brucken, Sambt Deren darauff postirten Statuen,wie sie heutiges Tages das Ansehen hat : Allen, gemelter Statuen-Patronen, zu grösserer Ehren, denen Frembden aber zu einer nützlichen Augen-Lust vorgestellet.
Joachim Johann Kamenitzky, Prague, 1723 ,Printed on paper with a leather binding, 105 mm x 166 mm / 223mm (open)
Provenance:
purchased by the museum from Antikvariát U Karlova Mostu, Prague, in 1999
Ownership record – label:
Archiv K. K. Landes Regierung Salzburg, note: Kamenitzky.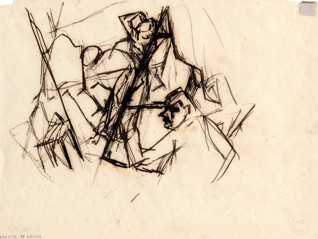 176.993 - In the Studio , (1912-1913)
Otto Gutfreund (1889-1927), Unsigned, undated, Pen and ink drawing on Japan paper, 260 x 320 mm
Provenance:
purchased by the museum from the Art Consulting Brno Auction House and Gallery in 1996; from the Milan Mikuš Collection; previous ownership history not recorded.