ACCEPTING ACQUISITION OFFERS, GIFTS, AND BEQUESTS
Have you ever thought about the best way to preserve the memory of a loved one or a reliable place to deposit your own keepsakes? The Jewish Museum in Prague is the best place for you.
 
The Jewish Museum in Prague is the third oldest institution of its kind in the world after those in New York and Vienna. Since regaining its status as an independent institution in 1994, when the State returned it to Czech Jewish organizations, it has again been devoted to the systematic expansion of its collections of art objects and library, archival, and historical documents fonds.
 As an institution of memory whose primary mission is to preserve, study, and disseminate the spiritual, cultural, and historical legacy of Jews in the Czech lands in a Central European context, the scope of our acquisition program is rather wide-ranging. While our main focus is on the fine arts or visual and book culture, particularly ritual objects that document the history of Jewish communities and individuals, the Museum also collects archival documents, letters, photographs, everyday objects, a variety of personal effects and oral testimonies, which document daily Jewish life across the centuries, including the most tragic chapter in Jewish history, the Shoah.
 The Museum accepts offers for donations and bequests, and in select cases it augments its extensive collections and fonds through purchases from private owners either directly or from public auctions in the Czech Republic and abroad. All objects, documents, and testimonies that come into the collections and fonds of the JMP form part of a whole that is unique in the framework of world cultural heritage, and as such they are given the utmost quality care and made accessible to both the public at large and professionals in the field.
 
How to make an offer
If you are interested in offering objects that you possess to the collections of the Jewish Museum in Prague, please fill out the form and send it along with a photograph of the object(s) either electronically or post to: Jewish Museum in Prague, U Staré školy 1, 110 00 Praha 1.
 
Offers of objects pertaining to Judaica, fine arts and visual or book culture, send to:
collections @jewishmuseum.cz
 
Offers of archival materials, letters, documents, film, photographic, and digital records, as well as copies, and objects related to the period of the Shoah and the Second World War, send to:
archive@jewishmuseum.cz
 
All donation, bequest, and acquisition offers are reviewed by an Advisory Board for Acquisitions of the Jewish Museum in Prague, which is composed of internal and external specialists in the fields of Jewish and Hebrew Studies, history, archival science, art history, and museology.
 
With respect to our internal guidelines for accounting and collection registration as well as legal and ethical principles concerning the provenance transparency of museum objects, the Jewish Museum of Prague does not accept anonymous donations or bequests for its collections. For the acquisition of any objects for the Museum's collections a donation or purchase agreement signed with the owner or the legal assignee of the owner is always required. If a bequest, then the final will serves as the acquisition document.
Recent Acquisitions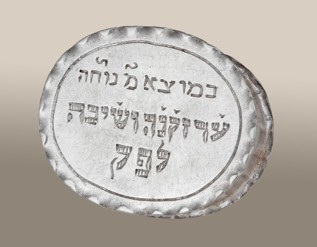 177.371 - Medicine box
Unknown maker, Central Europe, 1760 , Hammered silver, 24 x 9 mm
Marking:
illegible mark at the bottom; Hebrew dedicatory inscription engraved at the top: 'For retirement (the number in the chronogram is 54) when old and grey haired, according to the minor era' (the date in the chronogram is 520 = 1760).
Provenance:
donated to the museum in 1999.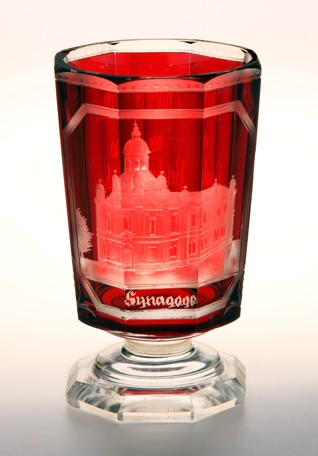 179.618 - Commemorative cup with a depiction of Liberec Synagogue
Unknown maker, Northern Bohemia, after 1889, Carved glass, ruby glaze, 136 x 83 mm
Marking:
German words 'Synagoge' [synagogue] and 'Andenken aus Reichenberg' [Memento from Reichenberg] carved on the surface.
Provenance:
purchased by the museum at an auction held by Meissner-Neumann in 2010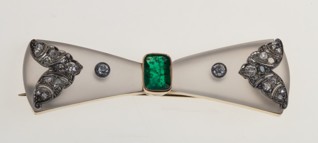 178.948 – Broach

Unknown maker, Central Europe, ca. 1920–1930.
Gold, diamonds, emeralds and chalcedony, length 56 mm, width 17 mm, completely unmarked.
Provenance:
Acquired by the Jewish Museum in Prague through a bequest in 2012.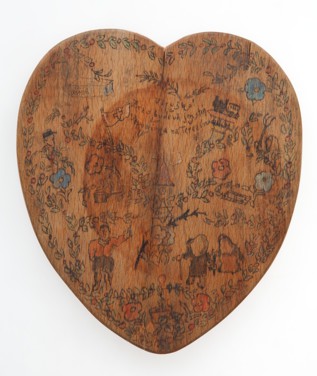 179.071 - Pot coaster
Unknown maker, Terezín, 1945, painted wood, height 210 mm, width 183 mm
Inscription:
"'Věruška, it will soon just be a shadow, a memory of Terezín."
Provenance:
Acquired through donation in 2007.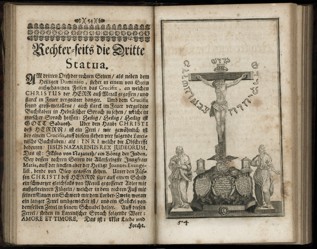 1999/1483 - Eigentlicher Entwurff, Und Vorbildung, Der Vortrefflichen, kostbahren, und Welt-berühmten Prager -brucken, Sambt Deren darauff postirten Statuen,wie sie heutiges Tages das Ansehen hat : Allen, gemelter Statuen-Patronen, zu grösserer Ehren, denen Frembden aber zu einer nützlichen Augen-Lust vorgestellet.
Joachim Johann Kamenitzky, Prague, 1723 ,Printed on paper with a leather binding, 105 mm x 166 mm / 223mm (open)
Provenance:
purchased by the museum from Antikvariát U Karlova Mostu, Prague, in 1999
Ownership record – label:
Archiv K. K. Landes Regierung Salzburg, note: Kamenitzky.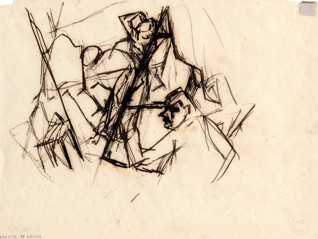 176.993 - In the Studio , (1912-1913)
Otto Gutfreund (1889-1927), Unsigned, undated, Pen and ink drawing on Japan paper, 260 x 320 mm
Provenance:
purchased by the museum from the Art Consulting Brno Auction House and Gallery in 1996; from the Milan Mikuš Collection; previous ownership history not recorded.