Exhibitions
From 07. 11.
To 23. 08.
2019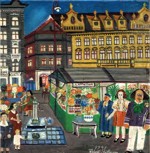 From 07. 11. 2019 - 09:00 to 23. 08. 2020 - 18:00
Robert Guttmann Gallery, U Staré školy 3, Prague 1
An exhibition of works by the popular early 20th century Prague naive painter Robert Guttmann featuring Guttmann's paintings and drawings from the collection of the Jewish Museum in Prague, as well as period photographs and documents which the museum has managed to collect over the years.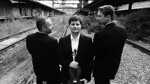 03. 12. 2020 19:00 - 20:30
Maisel Synagogue, Maiselova 10, Prague 1
A concert given by one of the leading Czech chamber string ensembles. Its members also play in the Škampa and Talich quartets. Among the works to be performed are the Goldberg Variations by Johann Sebastian Bach (1685–1750) and a selection of pieces by Hans Krása (1899–1944). Tickets may be purchased in advance at the Maisel Synagogue and at the Jewish Museum's Information and Reservation Centre (Maiselova 15, Prague 1), or through the Ticket Art network, Prague Ticket Office (online or at its shop in the Old Town Square) and the Jewish Museum's website.