Ways of supporting the Jewish Museum in Prague
Do you like our work and would you like to support us in some way? Do you have any items or documents of historical interest that you would like to donate to our collections?
Brochure about the Jewish Museum in Prague

We have one of the largest collections of Judaica in the world. We also have a wealth of documents, photographs and audiovisual materials relating to the history and culture of the Jews in what is now the Czech Republic. You can support the care of these collections and our other work by providing a financial donation. Specific support can be provided, for example, to the following:
the restoration of items in our collections
the restoration of tombstones in Jewish cemeteries
the development of educational and awareness-raising programmes
research and documentation
cultural activities or the promotion of our work in general
​
The terms of use for any donation can be arranged individually in accordance with your requirements. A deed of gift will be drawn up and receipt of any donation will be given for tax purposes.
Donations may be made by direct bank transfer to the museum's account:

In EURO:
Bank account name: Židovské muzeum v Praze
SWIFT CODE: COBACZPXXXX
IBAN: CZ60 6200 0000 0000 1042 6398

In USD:
Bank account name: Židovské muzeum v Praze
SWIFT CODE: COBACZPXXXX
IBAN: CZ22 6200 0001 0700 1042 6398

The Jewish Museum in Prague gives U.S. donors the option of making a tax-deductible contribution by contacting Friends of Via, a U.S. tax-exempt 501 (c)(3) nonprofit organization. By requesting the services of Friends of Via, your gift will be automatically acknowledged as tax deductible in the U.S.  To use this option, please contact carol.hochman@friendsofvia.org for additional information.
For more information on how to support the Jewish Museum in Prague, please contact  jiri.tejkal@jewishmuseum.cz
Specific conservation projects for sponsors

The Jewish Museum in Prague has prepared a number of specific conservation projects for sponsors who would be willing to contribute to their funding or co-funding.
Have a look at the individual items and let us know if you would like any additional information. (contact: Jiří Tejkal)

    
Shoe made with intertwined fabric bands.
Found in the genizah of the synagogue in Rychnov nad Kněžnou.
Textile, Bohemia, probably first half of the 19th century.
A low-heel laceless slip-on shoe, top made of black narrow bands of fabric, intertwined with a canvas binding and canvas-lined sole. Found in the genizah of the synagogue in Rychnov nad Kněžnou. Sewn hem band of fabric at the top edge, inner surface with a felted layer, probably hemp fibre. The surface layer is slightly torn and heavily soiled.

Estimated conservation cost: CZK 25,000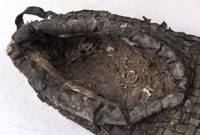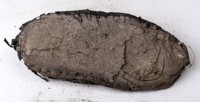 Successful Project Example - restoration works at the Old Jewish Cemetery
In 2015 restoration of a dozen selected steles placed subsequently on a support wall by the Klausen Synagogue was carried out. Comprehensive restoration of a sandstone tomb on the Nefele hummock was also part of the project. All steles and tombs are in direct contact with the visitor route and are highly exposed to presentation.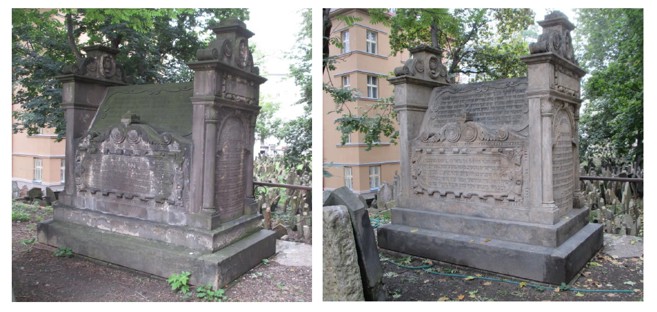 Successful Project Example - Rare Book Restoration
In 2015 a private donor supported restoration of a rare manuscript, a so-called Memorbuch or Pinkas, i.e. a book of entries usually connected to a specific Jewish community (in this case the Kolín Jewish community). The manuscript contains mostly liturgical texts and various prayers.