HELGA HOŠKOVÁ-WEISSOVÁ: NOBODY EXPECTED US
On Tuesday, November 8, 2022, the Maisel Synagogue hosted a gala presentation of the autobiography of Helga Hošková-Weissová, a Czech artist and Holocaust survivor, who will celebrate her 93rd birthday on November 10. For her children, grandchildren, great-grandchildren and all those who want to listen, she tells her extraordinary life story. Excerpts from her book Helga Hošková-Weissová: Nobody Expected Us were read by Tomáš Töpfer, accompanied by the author's son Jiří Hošek, her granddaughter, the cellist Dominika Weiss Hošková, and her great-grandchildren.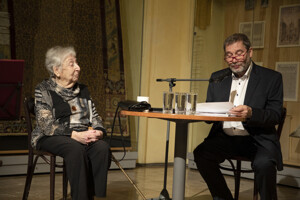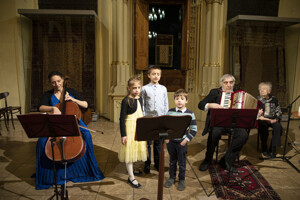 HELP FOR UKRAINIAN REFUGEES
The Jewish Museum in Prague will provide Ukrainian refugees with free access to its exhibitions, and the Jewish Community of Prague will give them free access to the Old-New Synagogue (Altneuschul). Entry tickets can be picked up at the museum's Information and Reservation Centre, Maiselova 15, Prague 1–Josefov.
 
Єврейський музей у Празі пропонує безкоштовний вхід у свої будівлі квитки можна отримати в: інформаційному центрі, Maiselova 15, Прага 1 – Йозефов.

EVACUATION OF COLLECTIONS FROM UKRAINE
The Jewish Museum in Prague is prepared to help safeguard Ukrainian museum collections. In response to an appeal received through the Association of Museums and Galleries in the Czech Republic, we have offered to provide expert curatorial assistance (especially with Judaica) and assistance in handling collection objects, should Ukrainian collections be transferred to the Czech Republic.
STAY IN TOUCH THROUGH OUR DIGITAL CHANNELS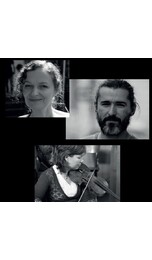 Prague
15. 12. 2022 - 19:00
Maisel Synagogue, Maiselova 10, Prague...
17. 10. 2022
/
At the beginning of this June, experts from the Jewish Mu... More information
11. 3. 2022
/
The Jewish Museum in Prague will be providing Ukrainian refugees with free ac... More information
2. 2. 2022
/
In October 2021 the South African Holocaust & Genocide received the pop-up tr... More information