Don´t Lose Faith in Mankind...
The Protectorate Through the Eyes of Jewish Children
Intended for children and young people, this exhibition shows various aspects of the life of Jews in the Protectorate of Bohemia and Moravia from the perspective of six people who were children at the time of the war. Its aim is to familiarize elementary school pupils and high school students with the difficult topic of the Holocaust and to introduce them to the Jewish minority.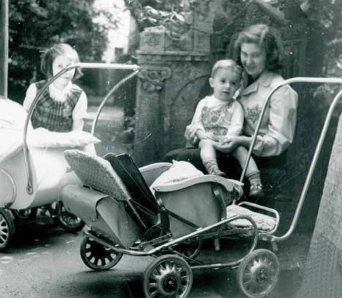 LANGUAGE VERSIONS: CZE, ENG
CURATORS: Dana Gabalová and Marie Zahradníková
FIRST SHOWN: 2007
Historical events conveyed through personal stories
In order to convey the historical issues mainly to young visitors, the exhibition makes use of authentic period material, much of which was created by children themselves: diary excerpts, correspondence, children's drawings from the Terezín ghetto, children's magazines, photographs of children, newspapers of the day, and other pictorial and printed documents.
The introductory panel introduces us to six Jewish children living a happy life with their families and friends in the 1930s. The other panels outline their various fates during the war years (they include, for example, a hidden child, a child saved by Nicholas Winton, and a child of mixed parents). Special attention is devoted to the life of children in the Terezín ghetto and in the Auschwitz death camp. The last display panel is devoted to the post-war and current lives of all six protagonists.
As part of the accompanying programme, participants can get together in different groups, each focusing on the fate of one child and then comparing it with the other stories. Such an approach will help pupils and students understand that the war and the Holocaust are not only historical facts, but also involve the stories of individual people.
The entire project can be incorporated into classes in history, social science, art and aesthetics. The exhibition also covers several cross-sectional topics as defined by the Framework Educational Programme for Elementary and High Schools (in particular, 'Multicultural Education' and 'Education for the Democratic Citizen').
TECHNICAL PARAMETERS
20 panels (height: 200 cm, width: 80 cm) on roll-up stands
Transport requirements: passenger car
LOAN CONDITIONS
This exhibition is available on loan, free of charge, to any institution. Transportation will be arranged and paid for by the borrower.