Neighbours Who Disappeared and Tribute to the Child Holocaust Victims
The Neighbours Who Disappeared project encourages young people to find out what happened to the people who disappeared from their neighbourhoods during the Second World War. The project is a source of methodological inspiration for studying the Holocaust period in accordance with the Czech Ministry of Education's general educational programme. In addition, it is an opportunity to meet with the last generation of Holocaust survivors and witnesses.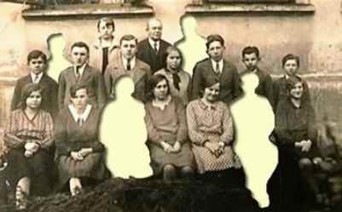 LANGUAGE VERSIONS: CZE, ENG, GER
PROJECT AUTHORS: elementary school pupils and high school students under the supervision of teachers, Marta Vančurová, Dana Gabalová and Jiří Hausner
FIRST SHOWN: 2001
MATERIALS
Project catalogue, collections of papers and brochures from individual schools, project methodology, films – all available on request.
ACCOMPANYING PROGRAMME
Exhibition commentary by project instructor, Holocaust lecture by project instructor, exhibition guide training for pupils/students.
LOAN CONDITIONS
This exhibition is available on loan, free of charge, to any institution. Transportation will be arranged and paid for by the borrower.