"Drawings from Elsewhere…" Solo exhibition of Jaroslav Róna opened 6 March 2019
8. 3. 2019 Overview news
A new temporary exhibition by Jaroslav Róna (*1957), a renowned Czech sculptor and painter, opened at the museum's Robert Guttmann Gallery on 6 March. 

On show is a set of drawings from 2012-2018 which gives us an opportunity to delve more deeply into the artist's world. The exhibition will run until 6 October 2019.

Robert Guttmann Gallery, U Staré školy 3, Prague 1
Open daily except for Saturdays and other Jewish holidays,
winter time 9 a.m. - 4.30 p.m., summer time 9 a.m. - 6 p.m.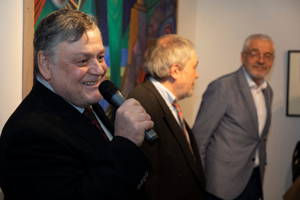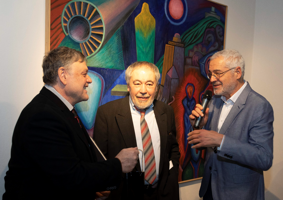 Left to right: Jaroslav Róna, curator Arno Pařík and director of the Jewish Museum in Prague Leo Pavlát