THE RETURN OF FOUR SYNAGOGUE TEXTILES TO THE COLLECTIONS OF THE JEWISH MUSEUM IN PRAGUE
17. 10. 2022 Overview news
(PRAGUE, October 17, 2022) At the beginning of this June, experts from the Jewish Museum in Prague – as part of their systematic monitoring of the global art market – discovered that four items on sale at the J. Greenstein & Co. auction house in New York had passed through the museum's collections during the Nazi occupation and had disappeared in the post-war period. The items in question are textiles that, along with tens of thousands of other primarily ritual objects, were transferred to Prague between 1942 and 1944 from rural Jewish communities that had been forcibly disbanded by the Nazis and whose existence was supposed to remain forever forgotten. The discovered synagogue textiles (a Torah ark curtain, a Torah mantle, two Torah reading table covers) are precious historical records and tangible reminders of the existence not only of the communities themselves, but also of their individual members whose names are recorded in the embroidered dedications.
 
The return to the Czech Republic of these objects, which are an important part of the country's cultural heritage, was made possible thanks to the assistance of the Czech Embassy in Washington, D.C. and the Czech Government. The Czech Ambassador to the U.S., Miloslav Stašek had this to say: "The physical liquidation of members of the Jewish communities in Bohemia and Moravia was preceded and accompanied by economic liquidation. Private and communal property was initially stolen by the Nazis, and what remained was often lost in the post-war period. The lives of the victims cannot be returned. However, we must strive to recover our cultural heritage so that future generations can enjoy and learn from it. I am very glad that the Czech Embassy in Washington has recently been successful in this endeavor, whether it was acquiring the estate of the film director Ivan Passer repatriating a precious Renaissance shield to Konopiště Castle, or, in this case, returning valuable synagogue textiles to the collections of the Jewish Museum in Prague."
 
The director of the Jewish Museum in Prague, Leo Pavlát, to whom the objects were handed over in person at the museum's headquarters on October 17, 2022, added the following words: "The Judaica in the collections of our museum bear witness to the centuries-long diverse and multifaceted life of Jewish communities in Bohemia and Moravia, which was tragically interrupted by the Nazi occupation. It is both a privilege and a duty to care for this heritage that once belonged to the victims of the Shoah. This is why every additional seemingly lost object from the heritage of the Jewish past that we can restitute to the museum collection is extremely important to us."

Download news release.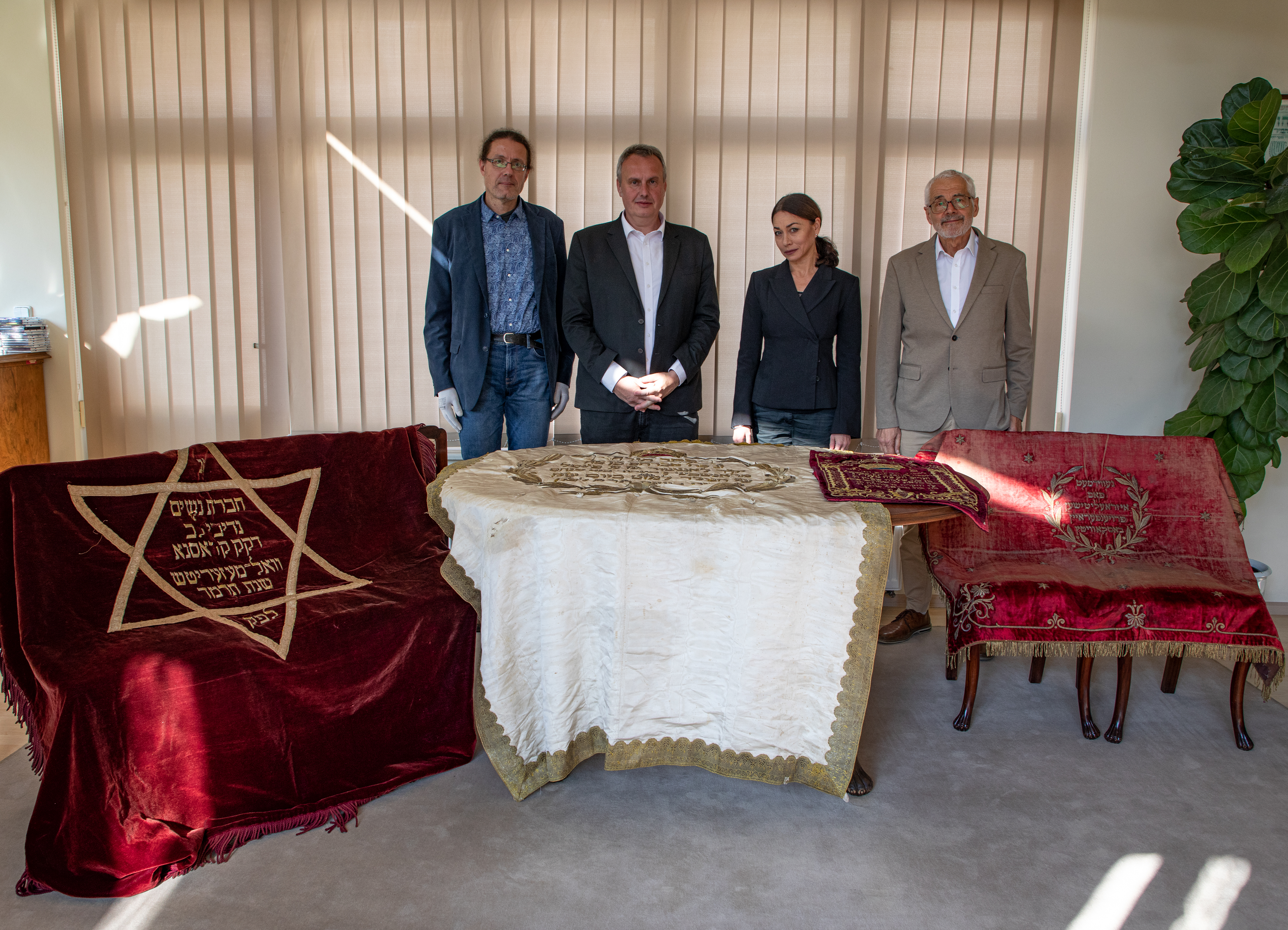 Handover of textiles in JMP
from left Milan Jančo / Curator of Textiles at the JMP, Tomáš Pojar / Advisor to the Prime Minister for Foreign and Security Policy, Michaela Sidenberg / Chief Curator of the JMP, Leo Pavlát/Director of the JMP